It was while holidaying in Paris, that I found the inspiration for my second novel, War Of Hearts, set at the end of The Great War.  And it was in the footsteps of Australian diggers and allied espionage networks that I trod opening my eyes to the lost stories of women who became civilian spies and a long forgotten tale in Anzac history writ large on the walls of a primary school in the small village of Villers-Bretonneux.
Autumn in France, with its vibrant foliage and warm, wistful afternoons is always a divine time to holiday (it is also off peak and economical!) but taking the time to explore Northern France and walk in in the footsteps of our fallen fore-fathers takes that experience to a higher plane.
First stop. Sedan (pronounced Sed-on) Where is it? And why is it important?
This November 2023, 105 years ago, World War I came to its bloody close in the tiny French town of Sedan (pronounced Sed-on). And it's here I began my search for the buried secrets of the Great War. Sedan and the surrounding Ardennes forest is a two and a half hour train ride north east of Paris and arriving you find yourself in a natural wonderland bathed in mystical silvery light.
It's a land of wild boars, deer, giant oak and plump, puffy mistletoe all reflected on the mirrored surface of the Meuse River. It's hard to believe this place was desecrated by two world wars and the many other conflicts beside. It is key strategic location near intersection of France, Belgium and Luxembourg which has made it a lip- smacking proposition for rulers of every fiefdom. Any wonder Sedan boasts the largest medieval fortress in all of Europe. Construction began in the 1400's and various rulers kept adding to it, to create this 35,000 square metre bulwark. It was here Napoleon III capitulated to the Prussians in the Franco-Prussian war of 1870 and here that French and Belgian civilians were held prisoner and executed in World War One (a fact lost to most – even some younger locals!). Today it is a heritage listed tourist attraction; a place of Harry Potter children's parties, medieval dioramas and an upscale hotel.
Fun Fact: The word 'sedan' used to describe a type of car, comes from this town, where the Sedan chair was born.
Beyond the village evidence of both world wars is achingly present. What is not, is that the largest spy network of the war, the civilian group La Dame Blanche operated in this town with their train watchers and couriers, helping the allies bring the war to its denouement, just as the Spanish Flu began to wreak its own special brand of havoc. Still,  the bullet-riddled buildings tell-tales well enough and in the surrounding pastures, whether cycling, walking or hiking amongst contented cud -chewing dairy cows and landscapes of green crops bordered by thick ancient forests, the entrails of war are evident  in the large black Germans block houses dotted about. Underfoot its easy to spot bullet shells hidden trenches and mud-fossilised barbed wire coils.
Poignantly, on a hillside amongst hundreds of French gravestones,  one lone Australian soldier rests.  Stanley Williams from Camden NSW who died from wounds in May 1918 is buried at Bazeilles Communal Cemetery (Grave No. 25).
Onto Amiens and the Western Front.
The story of lost and found story shifts west, to the Somme River, where today all is quiet on the Western Front. Amiens provides a scenic jumping off point for tours to the battlegrounds of the Somme and for spending time at the Sir John Monash Centre: The Australian Memorial War Museum.
This city known as the Venice of
France, with its canals, floating markets, tiny medieval houses, and mazes of laneways is a tribute to the lost era of elegant romanticism. In the centre of town is the grand steepled cathedral (the largest in all of France and a triumph of medieval architecture) and beyond that is the Musée de Picardie which displays century old art. Then there's the old time carousel, theatres, boutiques, puppet shows, stylish hotels and cafes that line the Quartier St.-Leu's narrow streets and canals. You don't have to look too far to see why Jules Verne made this place home for a time.
In Amiens cathedral  we pick up the story of Australian soldiers. Just beyond the northern door a stone plaque  pays tribute to the ANZACS. Moving further into the cathedral to the apse you'll find the weeping angel that became a big tourist attraction for the Australian soldiers.
There is nothing more moving than visiting the Australian War Memorial just outside of Villers Bretonneux where our fore-fathers fought and won decisive battles to help put French villages back into allied hands. There are hundreds of graves (many unmarked) and the museum is beautifully conceived, built beneath the hill that many young soldiers charged up toward their fates.
Villers-Bretonneux and the little school named 'Victoria'
Villers-Bretonneux is a moving experience too; the people there have never forgotten the
role Australians played in their survival. Fluttering in the autumnal breeze outside their town hall is  is an Australian flag and further on, down a narrow street in the centre of town, you can find a primary school named 'Victoria' in tribute to the Victorian school children who raised the money via their 'penny drive' to rebuild the school.
To make the most of your time, I would recommend a private tour company operating out of Amiens. Their knowledge of the Anzac stories is extensive and like me, you might be lucky enough to lunch in Albert, where a gilded Madonna stands tall above Albert Cathedral. During the war, she was hit but not toppled, creating the appearance of a swimmer diving into a pool and thus, the diggers, in true laconic fashion  dubbed her 'Fanny Durack' after the legendary swimmer of the day.
On the left (Below) Albert Cathedral and 'Fanny Durack' on the right. Albert Cathedral today.

We can't forget Brussels: Beer, Belgian chocolate, waffles and war heroines.
If you like your war history as much as your Belgian chocolate, beer, and waffles – Brussels is just a stones throw away by train. Here's a  sample of the delights you'll find on every corner. And in the restaurants the "dish of the day" is  mussels and fries. It's easy to get around by train too. From Brussels you can head south west to Bruges, or east to Louvain or onto Liege.
And it was it was in the Brussels war museum that I found myself captivated by the cabinet of trinkets-  all lost by fallen soldiers and then found later in the mud of the battlefields. And I wondered – What if one of those trinkets was the key to solving a cold case mystery? And it was this spark that eventually encase all of these places, experiences and stories of 'lost and found' inside my new novel 'War of Hearts'.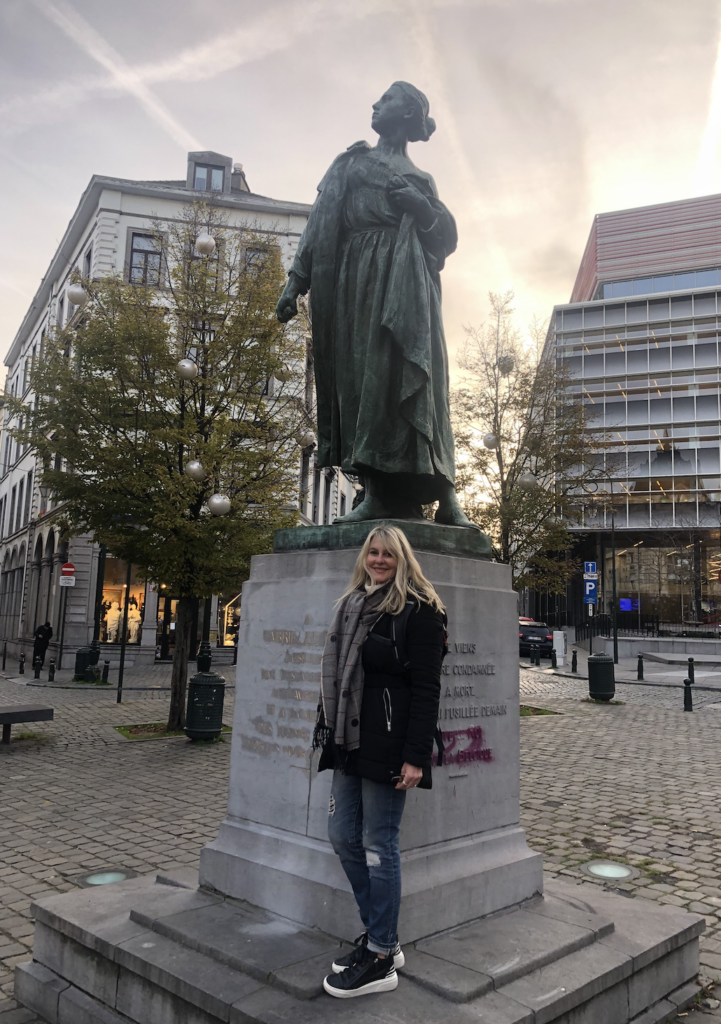 Here  I am with Gabrielle Petit in Brussels. Gabrielle was a war-time spy and martyr to her cause.