The Stories Behind the Story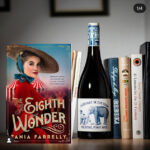 It's been a couple of months since the launch of The Eighth Wonder and I have been lucky enough to have been supported by a couple of wonderful women in media. Claudine Tinellis' Talking Aussie Books hosted me for her podcast and we talked about all things writing, NYC history, feminism and animal rights. And Sandie Docker is one of Australia's favourite authors (who has just written the fabulous Wattle Island Book Club) . She interviewed me for her series 'Friday Book Bites'. Please click on the links below to listen or watch these interviews. I've also penned a little guest blog for Booktopia on the trailblazing American Architect Julia Morgan, who was my inspiration for Rose Kingsbury Smith. And for Female.com.au- an interview about the inspirations for the story.And if that's not your cup of tea – try this Pinot Noir from the aptly named 'Elephant In The Room'. Cheers!
Click on the links below xTania
Talking Aussie Books with Claudine Tinellis
Watch Sandie Docker's Friday Book Bites to hear more about the background to The Eighth Wonder
Escape.com  gave me an opportunity to talk about one of the settings for the story Coney Island, Brookyln, NY. Check out my Facebook page for any more detail.